nice, pony sized kids barrel racing saddle, chocolate brown, gently used. I've sadly out-grown it! it excellent shape! Will trade for a english A/P saddle, good condition, 16 or 17in w/ fittings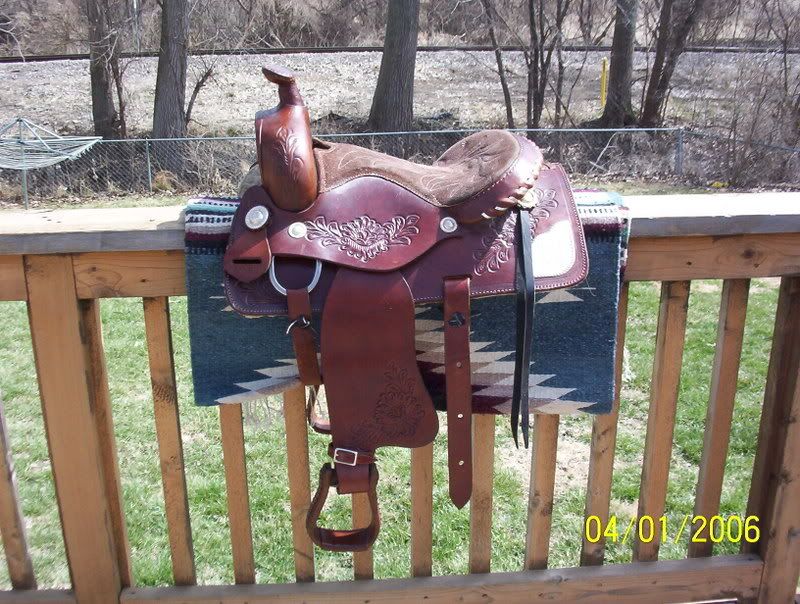 WEAVER WESTERN PONY BRIDLE:
barely used. with split reins and a curb bit. nearly new! i dont have a pony, so i have no need for it. $40 or i'll trade it for a plin old english bridle w/ bit and everything.
SADDLE STAND:
old, but sturdy un-pianted or finished wooden saddle stand. can hold 100+ pounds! $20 will trade for..somthing..
BIT:
pony sized loose ring snaffle. never used! $5 i'll trade it for a horse sized frecnh link hunter dee!
------------------------------this is all my friends stuff:
S Curb Bit-Horse sized with 1 inch port. Good condition. $8
I have a pair of size 6 tall boots. They are rubber, but look leather from a distance. They've worked well for me, but are just too small. They're really comfy boots, and they're still in perfect condition. I can take pics if you want some of them too. I'm asking $40 OBO.
(she'll probably trade for somthing.)
I have a pair of western riding boots too. Size 5 1/2. They are well used, but still very usuable. Leather and suede. I'm asking $15.
(i'll get a pic of them on here soon)
get message me if you have an questions!